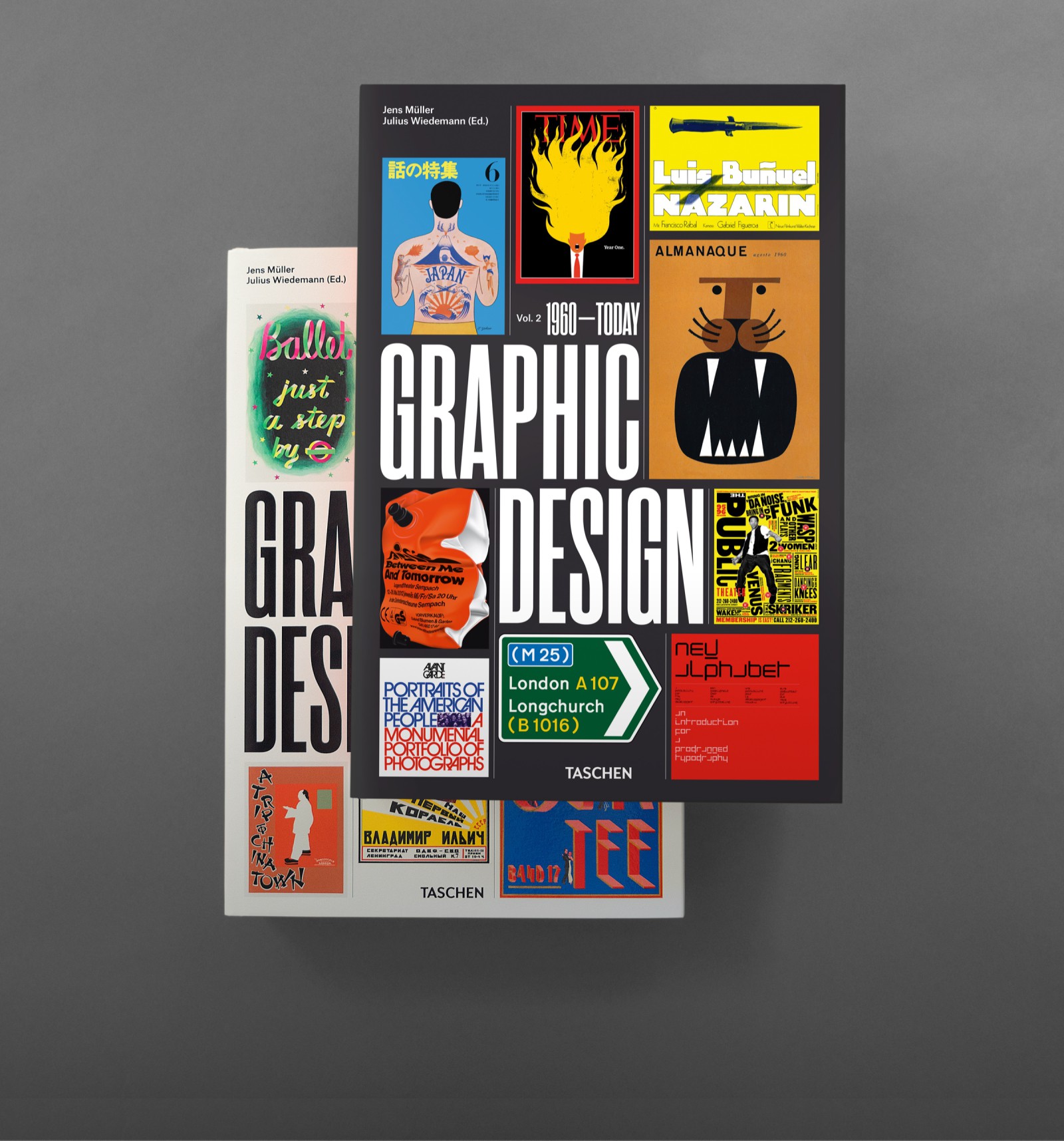 Visual Zeitgeist
Graphic design is everywhere: from packaging to airport signage, from fashion magazines to websites. In two volumes, The History of Graphic Design traces the visual history of the past 130 years.
Commissioned by TASCHEN, this is the most comprehensive visual documentation of the history of graphic design from its origins in the 1890s to the present day. Each book is a pictorial atlas, with several thousand illustrations that guide the reader through the history of the profession and the development of contemporary history. Major key works – such as the design of the London Underground or the visual appearance of the 1968 Olympic Games – are presented in detail, and 200 major figures are portrayed. Timelines provide a visual overview of cultural, political and scientific events.
"Sidebars and insertions ensure that sensory overkill never occurs despite the abundance of images."
— Spiegel Online
"Jens Müller ambitiously traces not only the evolution of an industry, but also the arc of our aesthetics."
— Time Magazine
"A great mosaic to discover. A journey into design and contemporary history."
— WDR 3
The development of the creative industry is traced from its beginnings in poster design through advertising, corporate identity, packaging and editorial design to digital products. Specific topics in design history such as "Posters in the Second World War", "Humour in Graphics" or "City Branding" are explained with texts and with historical quotations. All texts in the book are printed in English, German and French (or English, Italian, Spanish).
The consistently applied design concept ensures an immediately comprehensible navigation. The book is both an invitation to targeted research and a visual voyage of discovery.
Client: TASCHEN GmbH, Cologne
Services: Concept & design, research, text, editorial design.
Year: 2018